Unfortunately, Tennis Elbow 2006 isn't available anymore to play in your browser (because the plug-in allowing to do this has been discountinued by its author).
But if you want to play online tennis games against other human players, you still can download the demo of 2011 version for Windows here :


(Win9x/2000/XP/Vista - ~35MB)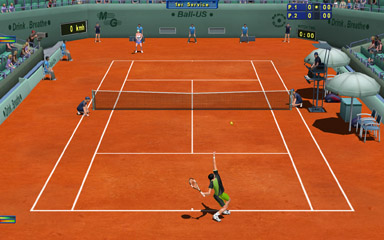 Tennis Elbow 2011 Demo Description :
Created by tennis fans, which are regular ranked players, Tennis Elbow 2011 is a tennis game with a fun, realistic gameplay.
Tennis Elbow is the only game that will give you such an impression to be on the court, and will make you feel the emotions of the match with such realism : you will be conquered by the ultra-realistic ball trajectories, the artificial intelligence replicating the players' behaviour with precision, and the complete range of shots and game situations.
Its intuitive gameplay will let you easily control the player and the ball, and even if you're not a tennis fan, you will have a lot of pleasure and fun to run and strike balls all around the court, fighting in all games !
And last but not least, with its online mode you could play against other real human players in fantastic online tennis matches !
Click here to read the full
online game documentation
Note: this game is the sequel of these tennis games : Tennis Elbow 98, 2004, 2005, 2006 & 2009, and Tennis Champs.
Full version Features :
9 different court surfaces : clay, green clay, grass, hard, blue-green hard, classic synthetic, NewLine synthetic, indoor hard and indoor synthetic; each with a specific rebound
300 tournaments, with 3000 players evolving over 35 years
The World Team Cup
Singles & doubles competitions
6 difficulty levels, each split in 10 sublevels
Full ranking system (like the entry one from ATP)
3D male & female players fully customizable
Singles, 3, and doubles games
Split screen
Network : LAN and online games
1 to 6 games per set, in best of 1, 3 or 5 sets
4 camera modes
Supported languages : English, French, Deutsch (tennis spiele), Italian, Dutch, Spanish